BUSINESS CARDS premium - for the demanding customers
Technology:
We print business cards in offset technology using 4-color printing presses with CTP plates. The whole process of production (prepress, press, postpress) is made by ourselves on the spot with no subcontractors or any middlemen.
Graphic design:
If You do not have any design of a business card, our studio can prepare it for you for a reasonable price.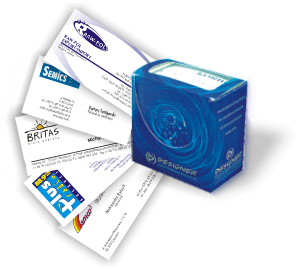 This product is characterized by the following features:
exclusive print means we only print your cards on the sheet, so you can freely choose the type of paper used and colors of print as well as other special options, such as finish or film coating,
choice of card format, e.g. 90x50 mm or 85x55 mm.
any color palette can be used for printing the cards, e.g. Pantone, HLS or CMYK. Please note that cheap business cards printed with digital or offset methods using the CMYK color palette cannot use some colors at all and many colors are made through rasterizing (using small color dots) which renders the colors not uniform.
a wide choice of papers such as smooth, textured, ornamental, colored, etc.
possibility to refine the surface of the cards e.g. coating with matt or glossy film or spot-coating with high-gloss UV finish,
short delivery period, approx. 3 working days - determined individually.
---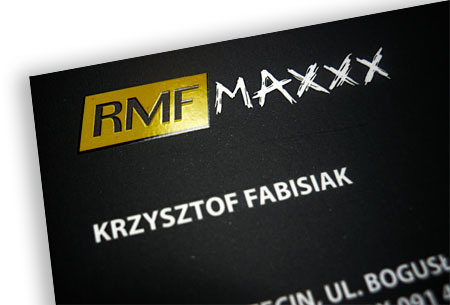 Business Cards coated with matt film and UV gloss spot finish
This kind of effect deserves special attention. The surface is first coated with matt film and then selected elements are covered with high-gloss UV finish.
It looks very exclusive and the glossy elements attract attention. We apply this effect especially on brand logos or some graphic elements.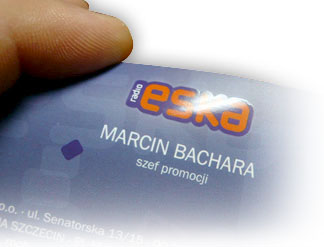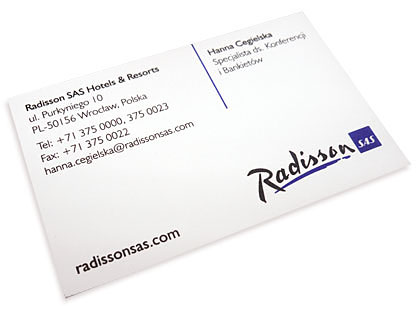 Smooth paper Efenbens or Ivory Board
Smooth matt aesthetic non coated surface. The colors on this uncoated surface look darker and less intense than on coated papers, however they are wear resistant.
---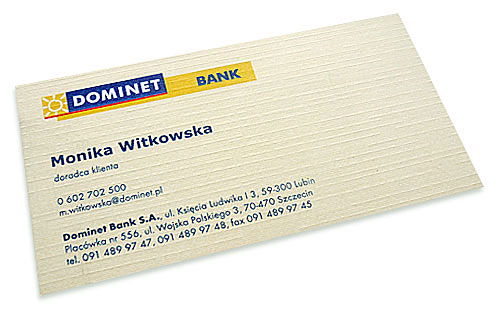 Textured paper
There are variety of papers with textured surface which makes the paper look more attractive. There are many kinds of textured and colored paper available as well. The colors on this uncoated surface look darker and less intense than on coated papers, however they are wear resistant.
---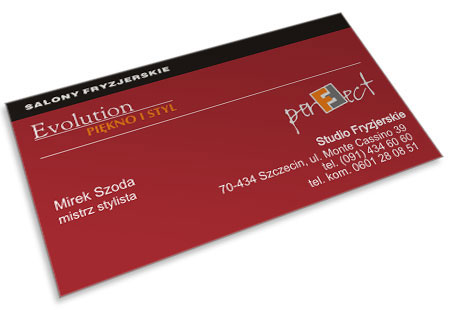 Matt film coated
Business cards on matt coated paper with most of the surface covered with print should always have a matt finish. This allows for the business cards to remain wear resistant. In addition, the matt film stiffens the paper and makes the surface look smooth and homogeneous.
---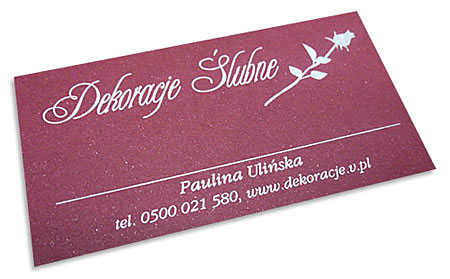 Decorated paper
Decorated papers allow for effects unavailable in print. Different structures of paper decorated with metalic details, water marks, colored fabric etc. are recommended when You want your business card to be outstanding. On dark paper only metalic print such as silver and gold can be used.
---