Dome labels - 3D logo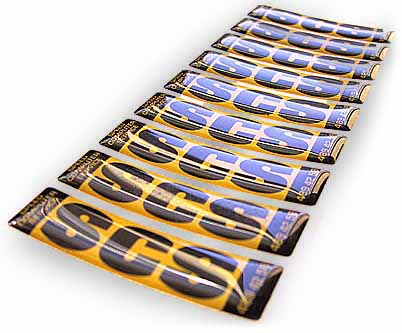 Attention ! Our labels never change colors and stay flexible forever
thanks for polyurethane resin instead of epoxy resin.
Product description:
Dome labels can take any shape or design. The base is a printed self-adhesive film coated with translucent flexible polyurethane resin. Ready-made label is flexible, 2-3 mm thick and it has beautiful and dazzling gloss. Dome labels are resistant to mechanical damages, UV and water and many chemical substances. It is surely an ideal solution to highlight your company's logo, trade marks, etc. It gives the products more exclusive and unmistakable look, improves its aesthetic value and attractivness.
Use:
This product is used, among others, by producers of IT equipement, electronics, household goods, furniture, windows & doors, staircases, window blinds, bathrooms equipment and in automotive industry.
Technology:
Our labels are produced using the best available material - polyurethane resin: it is much better than the more common epoxy resin. Whether the labels shall be sticked outside or inside, they will always stay flexible and their surface translucent. Epoxy resin labels change color, become stiff and can crack easily, but it is much easier to handle and therefore many producers use it, despite its poor durability and faults. This short-sighted policy is a clear disadvantage for customers. Labels are solvent, screen or offset technology printed without any middleman.
Graphic design:
If You do not have any design of a dome label, our studio can prepare it for Your for a reasonable price.