Advertising banners - ideal mobility advertisment for fairs, events or exterior exposure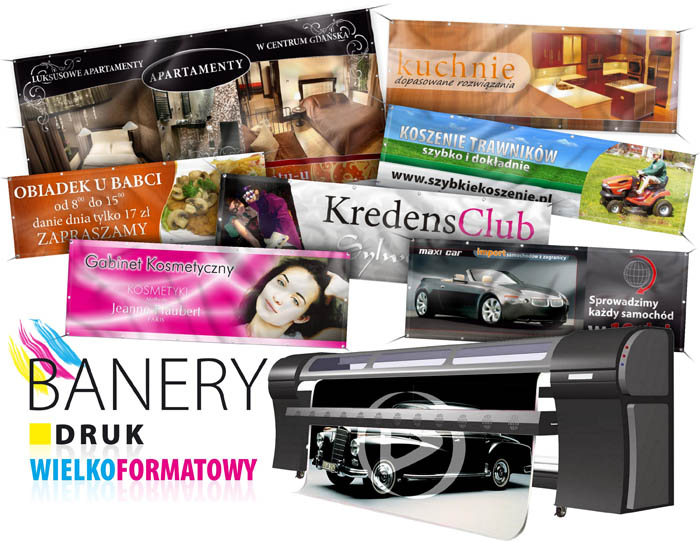 Printing house Designer will print perfectly what you need.
Technology: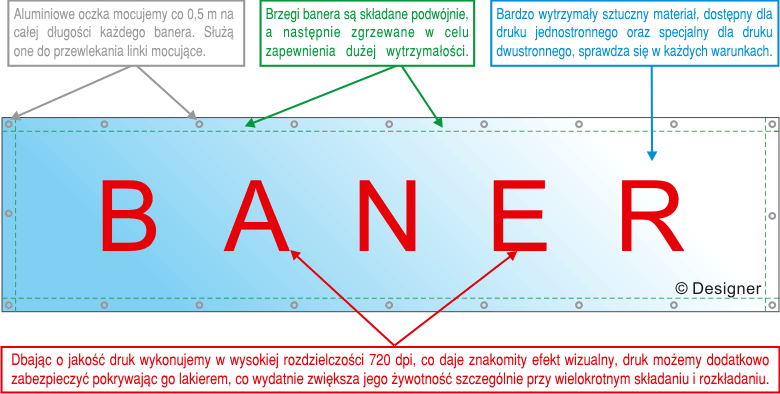 Graphic design:
If You do not have any design of a banner, our studio can prepare it for You for a reasonable price
Format:
Full availability of banner sizes allows our customers to select the appriopriate format. Up to several meters in width and 10+ meters in length.
Media:
We make use of varius media, depending on application. Some of the most poplular are:
Frontlit - Applicable for one-sided printing. It consist of polyester fabric coated with PVC. High resistance to tearing. It is used as advertising media lit from the front (from the printed side) with natural or artificial light. Particular strips of the frontlit can welded together forming a surface whose size is only limited by size of carrying frame structure.
Backlit - is vinyl material transclucent to and dispersing light. Its application is backlighting. During the day it retains the same visual properties as the frontlit. If appriopriate design is used, day/night effect can be achieved, i.e. the image seen during the day is complemented in the night with additional elements. Particular strips of the backlit can welded together forming a surface whose size is only limited by size of carrying frame structure.
Blockout - This material is applicable for interior and exterior use, wherever the print is double-sided and where the interference between the images is not desirable. It can also be used for blacking-out hotel and office spaces.
Mesh - is applicable for large and very large advertising surfaces (hundreds to thousands sq meters). It is particularly useful in windy places as it allows wind to pass freely across the surface saving the carrying frame structure from undesirable stress. It is succesfully used as a scaffolding cover. It is available in variety of densities which allows for optimal material selection depending on desired location.
Print:
| | | |
| --- | --- | --- |
| Sharpness |   | Colors |
| High resolution (up to 1440 dpi) solvent printing with modulated ink dot size. |   | We use color profiles appriopriate for every print medium, which allows for vivid colors. |
Optional finishing:
To increase the durability of the banner it can be coated with clear varnish. This additional layer will protect the print against wear during intense exploitation such as multiple rolling and unrolling e.g. during fairs.
Price offer:
You know exactly what you are paying for - full transparency of production costs included in our calculate form
Standard offer - fast realization of orders with no limitations of paper, colors or format.
 
Promotional offer - low price with longer time of realization and limited choice of colors and format.

You decide how much you want to pay by choosing the right offer from the menu.
Time of realization:
Reasonable times of realization with possibility of shortening them for an extra charge. If You are really in a hurry we can print your order for the following day or even within several hours - details available in calculate form.
If You are looking for more:
Contact us and we will provide you with a professional advice and prepare individual price offer.